The Southern Illinois Coal-to-Synthetic Natural Gas (SNG) Facility (Facility) will manufacture pipeline-quality natural gas using abundant Illinois coal. It represents the breakthrough use of current commercially-proven, environmentally-friendly gasification technology. The Facility will promote energy independence, while creating a viable new market for Illinois coal reserves.
The Facility will produce up to 65 BCF of SNG annually, representing 5% of total consumption of residential, commercial, and industrial customers in Illinois. The Facility will sell a substantial portion of this production under long term sales agreement to Illinois gas utilities.
Significant Economic Impact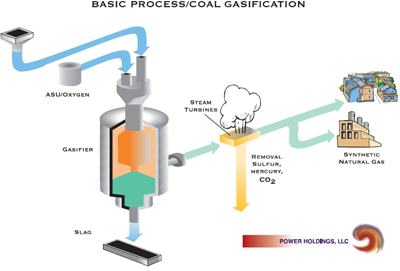 Direct investment of over $2.0 billion in Southern Illinois
Over 1,000 construction jobs
250 new permanent plant jobs
New permanent mining jobs
Indirect impact of $8 billion in economic activity
Low Environmental Impact
Limited air emissions make the Facility among the cleanest in the US. The technology represents the most environmentally-friendly use of coal.
Its zero-liquid discharge design recycles all water intake, and generates no wastewater disposal.
By-Products
Argon and Nitrogen
Sulfuric acid
Clean Gasification Technology
GE Energy gasifiers
Rectisol sulfur cleaning process
Haldor-Topsoe methanation process
Coal Industry
The Facility will require the development of a new mine. It will consume up to 5 million tons annually of Illinois coal.
Construction Calendar
Break ground in 2011
Testing at the end of 2013
Full commercial operation in 2014
Energy Independence
The Facility uses abundant Illinois coal to meet critical energy needs. It will provide a completely new, steady, and reliable supply of natural gas at market prices. It will reduce significantly dependence on foreign sources of natural gas.
Operations
Location
Jefferson County, IL
Gas pipeline
NGPL -Kinder Morgan
Railroad
Canadian National
Water source
Rend Lake, IL
SNG production
160,000 mmbtu/day = Up to 65 BCF per year (Annual usage for over 500,000 homes)
Power Holdings of Illinois LLC serves as project developer. Power Holdings is a developer of coal gasification facilities, based in the Chicago area.